Wagner ProSpray PS 3.21 Hi Boy 110v Airless sprayer
Wagner ProSpray PS 3.21 Hi Boy 110v Airless sprayer
Featured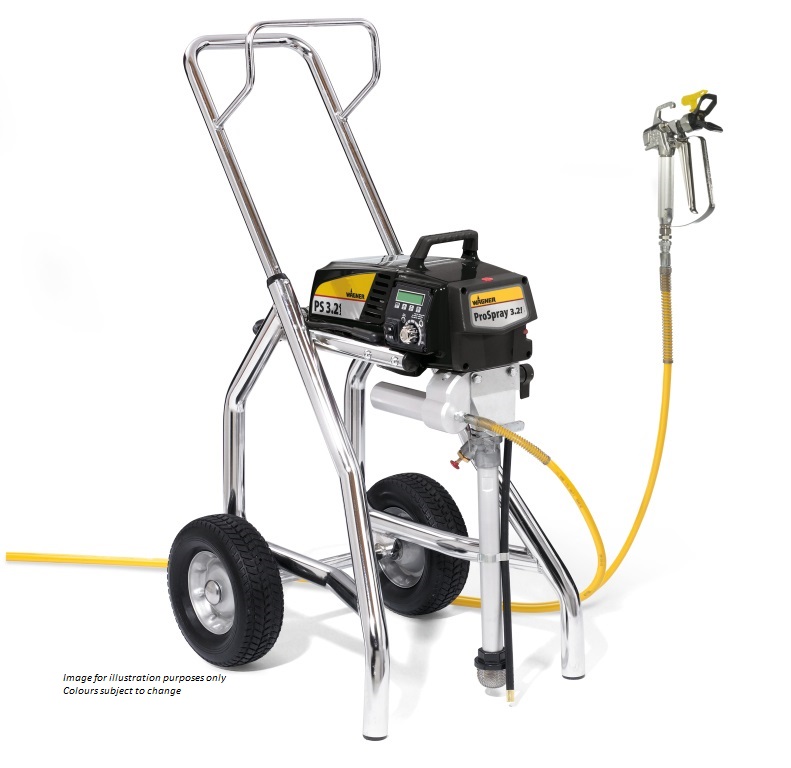 Magnify
Our Price
£1,395
each + VAT
Call Us Now
01543 251 560
Office Hours are Monday to Friday 8:30 am - 5:00 pm.

Fill in the form and we'll be in touch very soon.
Free Delivery
On orders over £100
The Wagner ProSpray 3.21 HiBoy (Cart Mount) is a general purpose painting and decorating airless paint sprayer that has good pressure control throughout the pressure range, so that it will handle the full range of smooth decorative paints and coatings from the lightest stains and varnish, through gloss, primers, acrylics, vinyl emulsion to heavy masonry paint. It will not spray textured materials. It will support up to a 0.023" (23thou) spray tip.
The 0.65 kW digital controlled electric motor provides a smooth spray at all pressures up to a maximum of 3,300 psi (230 bar). Maximum delivery is 2 litres/minute. The paint pump features fixed self-adjusting packings so that there is no sleeve to wear and they are easy to change. Access to the valves is quick and easy without special tools. An inlet valve lifter is fitted. It has a piston oil reservoir that allows you to deliver a small shot of oil without needing to find the traditional bottle.
Cart mounted, the PS 3.21 is easy to transport and weighs only 26 kgs. It comes complete ready to spray with a 50' (15 m) paint hose, Vector spray gun, a 2-speed tip having 113 and 417 sizes. This is a quality product with a 5 year warranty if you register it on-line.
The weight is 26 kgs
Delivery by carrier is included in the price to most UK Mainland Destinations
0.65Kw Motor
3,300psi (230 bar)
Maximum 23thou Tip
Maximum Delivery 2Litres Per minute