Spraying in private houses and small commercial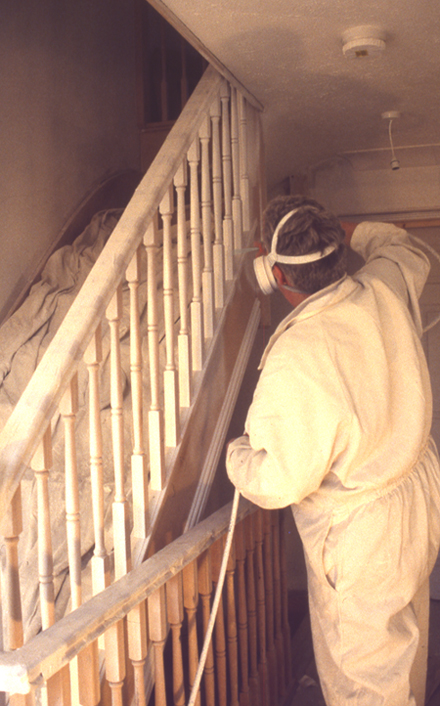 It is perfectly possible to spray paint in a small private house or a flat without making a mess, or even without much overspray dust. When the property is empty then you can use straight airless because the small amount of overspray will be dust that is easy to clean up.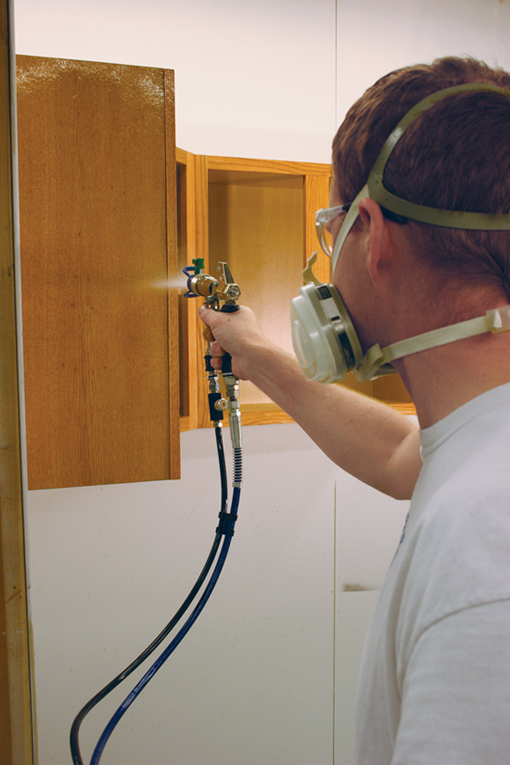 In an occupied property, more care is needed to control any dust by making as little as possible, which is achieved by spraying at much lower paint pressures with an air assisted airless (AA) sprayer. An AA sprayer is also more accurate in its spray fan, allowing you to spray with a minimal amount of masking.
You can make your life easier and speed up the job, by attaching accessories, such as pole-guns and masking with masking dispensers. And when you can't spray, you can use a roller with a perforated cover, fed internally from your airless sprayer.
For more information on power rollers please see:
Spraying a ceiling with a pole-gun allows you to be standing to one side so that you are not right under the spray tip, avoiding overspray in your face. It also allows you to access difficult to reach places such as stair-wells; not so obvious, a pole-gun can take out the bending down to spray a wall from top to bottom.
Masking is important for spray painting providing you have good masking tape and film dispensers, and use a quality tape with a tack (stickiness) appropriate for the surface.