Graco Mark V ProContractor II airless sprayer 110v
Graco Mark V ProContractor II airless sprayer 110v
List Price £7,390
Our Price
£3,583.33
each + VAT
A saving of
£3,806.67 = 52%
Call Us Now
01543 251 560
Office Hours are Monday to Friday 8:30 am - 5:00 pm.

Fill in the form and we'll be in touch very soon.
Free Delivery
On orders over £100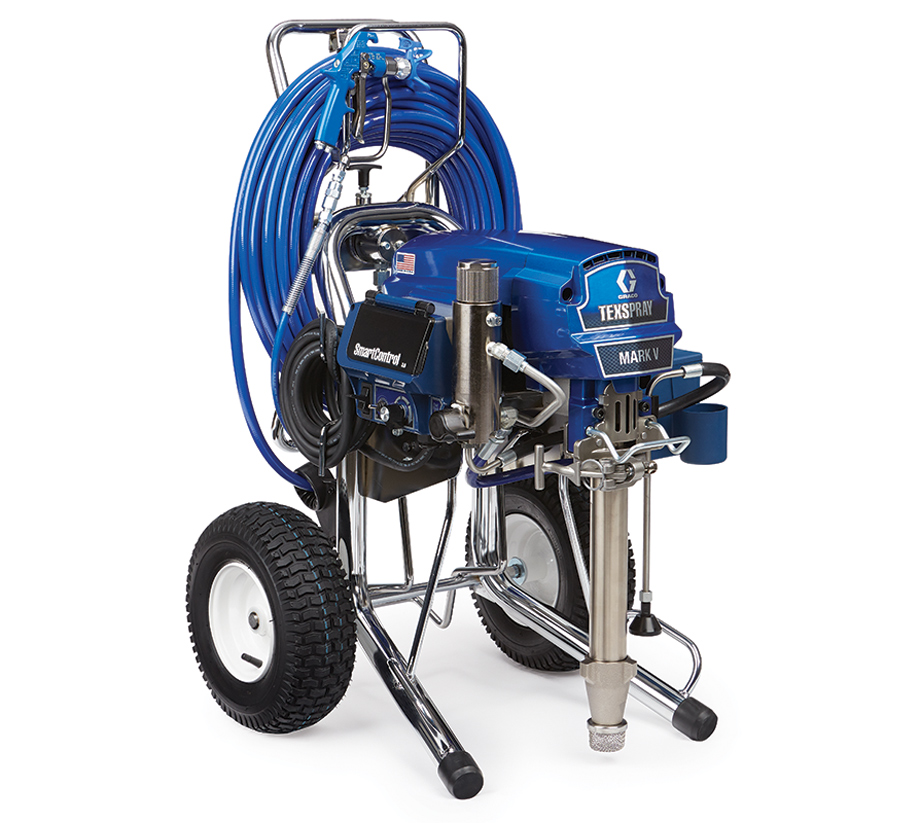 Graco Mark V ProContractor is the most powerful Graco electric airless sprayer available in 110v with a 2.00 kW (2.8HP) digital SmartControl 3.0 controlled motor. It is designed to handle smooth (non textured) heavy materials, having a pump lower located just above the suction strainer, so right down in the material. Maximum pressure is 3,300 psi (230 bar). It will support up to a single 0.039" spray tip and can be used to spray smooth plaster, when it will support up to a 0.041" tip and up to 4.3 litres/minute.
It comes mounted on a sturdy cart with semi-pneumatic wheels, with an integrated hose reel and 50' (15 metres) of 3/8" ID main hose with a 3' x 1/4" ID whip hose, heavy duty spray gun and 2 reversible spray tips 427 and 531 size. The complete ProConnect paint pump can be quickly removed for servicing, on site and without special tools, allowing you to install a spare and keep working. The petrol engined equivalent is the Graco Gmax II 5900HD.
The cost of delivery is included in the price
Supports a spray tip up to 35 thou' (0.035")
Maximum flow rate: 4.3 litres/minute
Maximum pressure at the pump: 3,300 psi (230 bar)
Motor power 1.65 kW (2.2 HP)