Paint spraying of buildings
We supply a wide range of equipment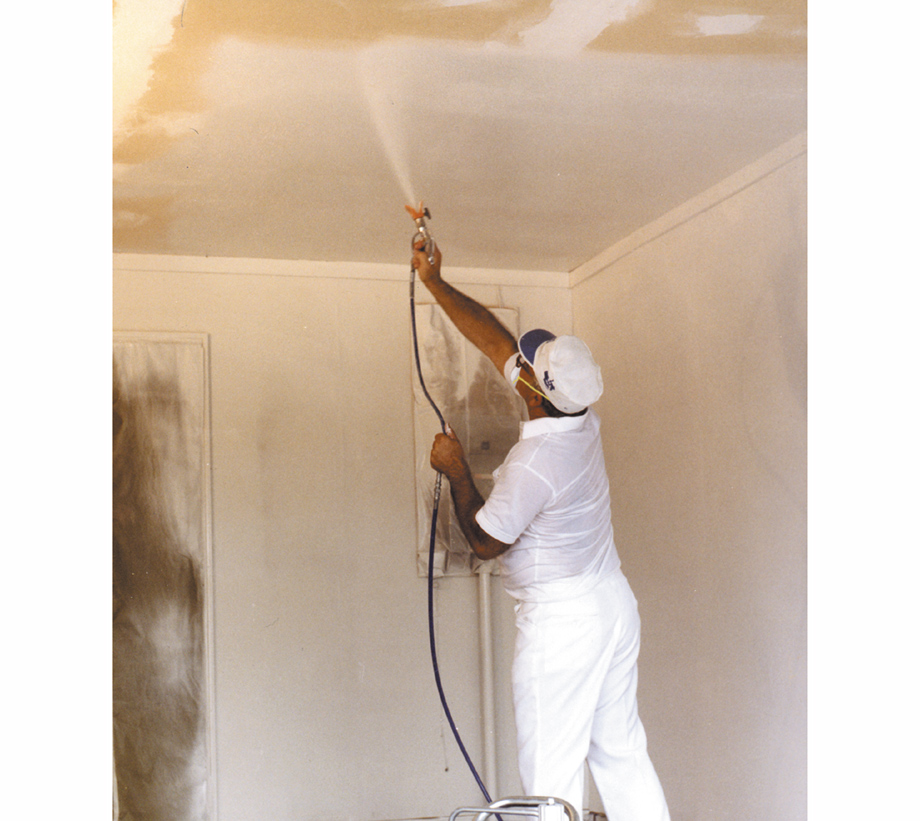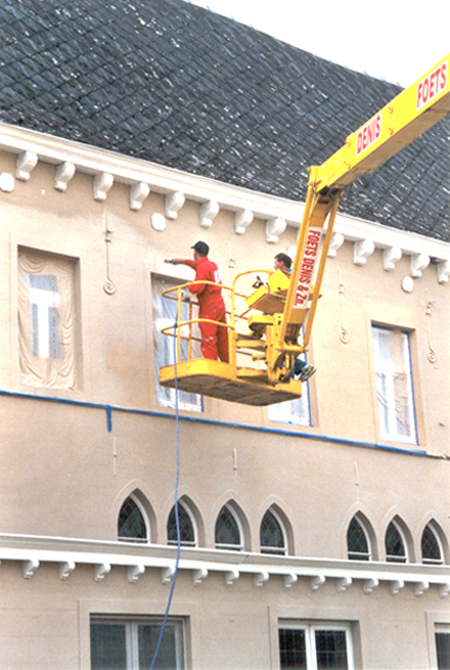 Painting and decorating of buildings can be made much more efficient through the use of Power Painting® equipment; it is the way to use paint spray equipment and pressure rollers to apply paint in buildings large and small, from single houses, housing estates, commercial projects, either in redecoration or in newbuild. Power Painting® is faster than a brush or hand roller and usually saves paint because you can lay on coats that are more uniform, requiring less paint to produce a uniform coat. Even pressure rollers are much faster than a hand roller as you save half the time not having to coat the roller, while spraying is up to 15 times faster than even a jumbo roller. And spraying gives you a much better finish, while a pressure roller allows you to use a roller with a short nap because the nap does not have to carry the paint.
Altogether, Power Painting®:
Saves time

Saves paint

Gives a better finish

Spraying and rolling down
This will give you a big competitive edge; you can make greater profits while giving a better service, a win-win situation for both you and your customer, so why doesn't everyone use Power Painting® equipment? The answer is mostly that many painters have never used it, or did not have a good experience with it, possibly because they were incorrectly trained or not trained at all, maybe because they have either hired or borrowed it without training, or even that it was the wrong equipment for the job. It is very important to get the right equipment and the right training to do the job. Most reputable technical colleges that run painting and decorating courses, will also offer to train you in the selection and the use of Power Painting® equipment.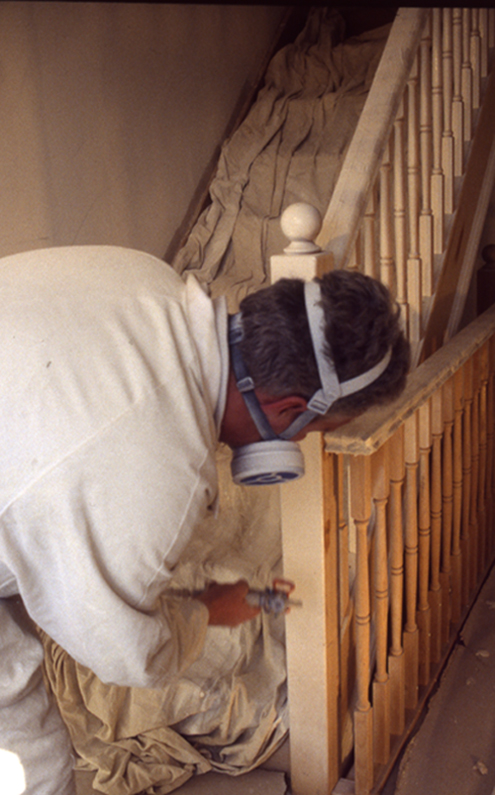 Most painting and decorating is done with an airless pump that deliers the paint under high pressure to a simple spray-gun with an on/off paint valve; no air is involved in generating the spray, just the pressure of the paint. The size and type of airless pump that you need for different types of work, depends on the maximum spray tip (nozzle) size that you need to work with. The larger the spray tip, the more powerful the pump has to be at the same pressure. Most architectural coatings can be sprayed at less than 2,500 psi at the spraygun, but most airless sprayers for painting and decorating provide up to 3,300 psi of pressure at the spray-gun to compensate for the pressure loss through the filters and along the paint hose.
Airless spray will always produce a bit of overspray, which is the material that doesn't stick to the object being sprayed; how much depends on the viscosity and also the spray pressure. If you are spraying a water based paint, this doesn't cause a problem except for a bit of dust, as the fine paint particles will dry out before they land on the floor. In new build,the overspray dust doesn't matter too much, but if you are spraying a couple of ceilings in an occupied house, or perhaps a hospital, then even a small amount of dust is unacceptable, so you need to spray with air-assisted airless (AA), because this allows you to drop the spray pressure by almost a half, which almost eliminates the overspray. AA is usually used to spray a high finish in the furniture trade, because it can also produce a finer atomisation than airless, so if you do a lot of painting in private houses, then AA is the way to go, not only to gloss the woodwork to a better finish, but also to spray emulsion and acrylic at lower pressure, to reduce or eliminate the overspray dust.
The equipment in this section will handle most decorating jobs, from small private houses, newbuild or refurb, to small commercial premises, applying all smooth decorative paints from stains and varnish, through gloss, primers, acrylics, vinyl emulsions to heavy masonry coatings. They will not spray structured coatings (which contain large particles) although we can supply equipment that will spray them. Each airless sprayer is supplied with 50' of quality airless hose, a hand spray gun fitted with a reversible spray tip. Air-assisted airless sprayers for paintning and decorating, have an electric airless pump with a small air compressor, twin air and material hose, typically 25' long and a special AA spray gun into which compressed air is injected around the spray tip increasing the fineness of the spray.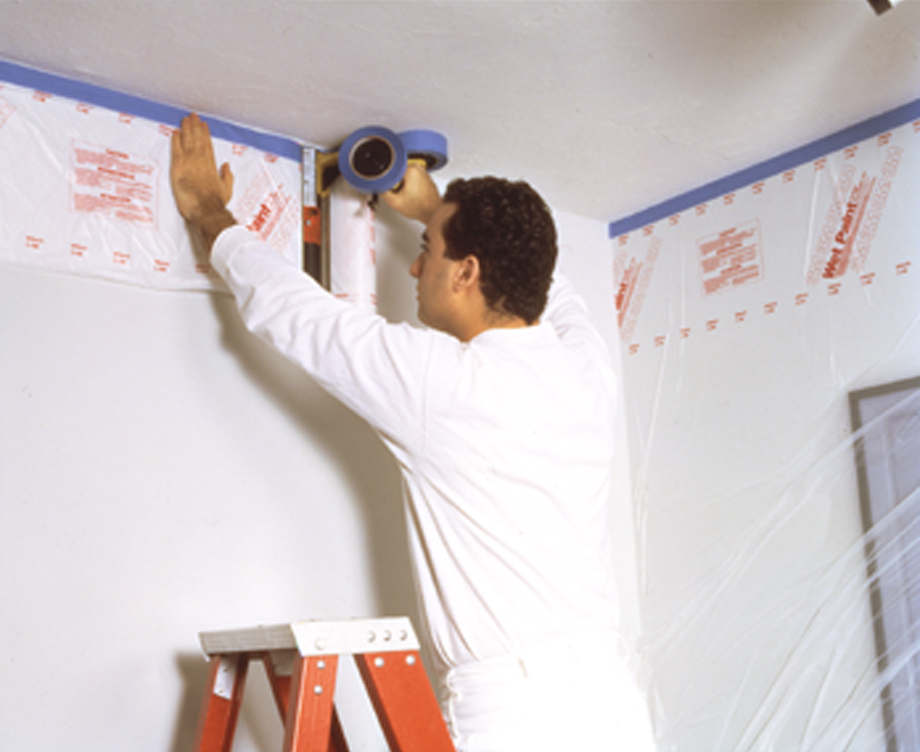 Useful accessories include:
Fine finish spray tips for gloss work
Modular airless pole system to carry a spray head or power roller
Power strainer system to strain and hold the paint, and keep out any dust
Tape and film masking dispenser and spray shields
Breathing masks
Please see our section on accessories and consumables, for more details.
We supply a wide range of equipment to paint houses with spray guns or power rollers, and can advise you on the best equipment for your work and budget. Once you have bought it from us, we can help with advice on the set up for each job, with problem solving, supplying consumable parts by next working day, and service or repair the equipment in our own workshop.