Spraying multi-colour (fleck)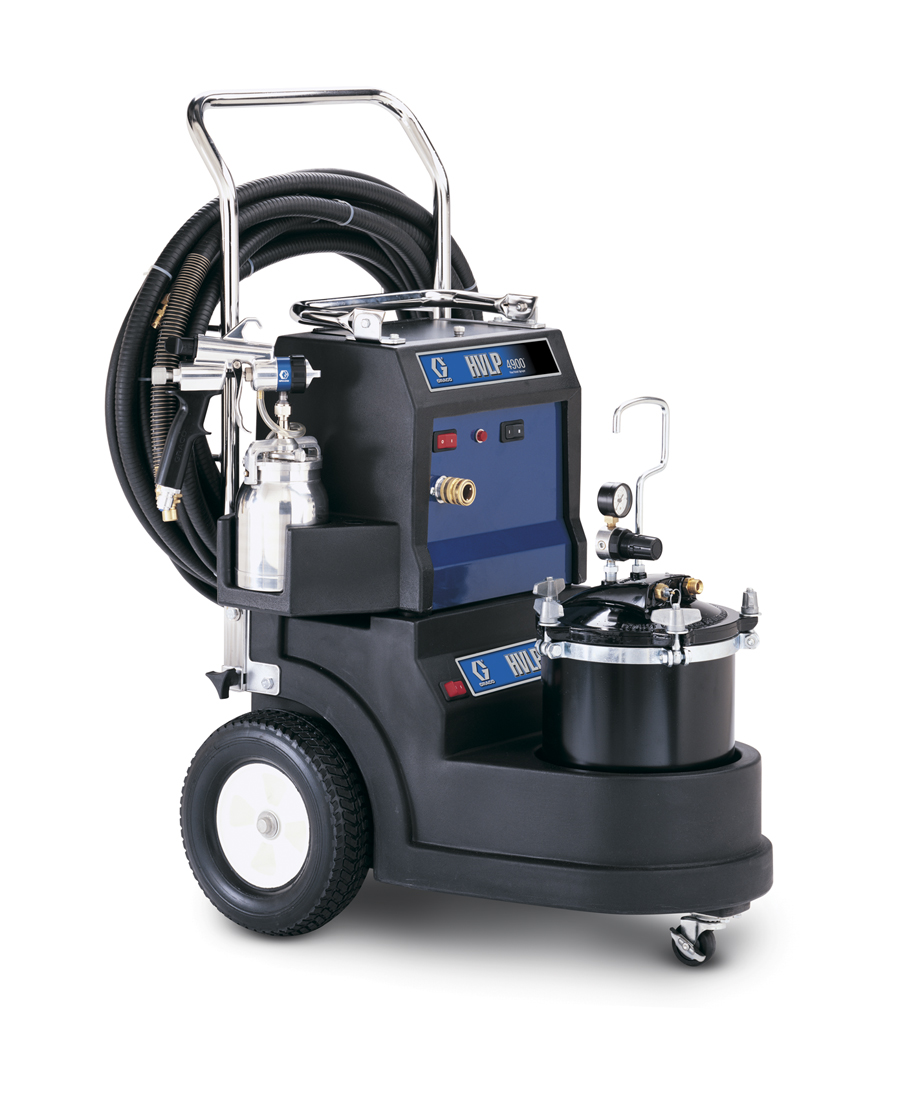 Multi-colour paints need to be sprayed with equipment that will not break up the individual coloured particles. Modern water based materials are too fragile to spray with high pressure airless equipment, so a low pressure system must be used.
To spray multi-colour, internal mix airspray guns have been used in the past, but they are being superceded by an HVLP system (High Volume Low Pressure), which has the advantage that the spray pattern has a more pronounced feathered edge, that avoids the banding of each spray pass that an internal mix gun can produce, saving extra coating needed to cover the banding. A second advantage of HVLP is that it can be readily used to spray other materials, in particular stains, varnish, primers and gloss.
For spraying multicolour, the paint is usually supplied under low pressure from a pressure tank, inside which the paint can has been placed. The HVLP spraygun can also be fitted with a small 1 litre paint cup for spraying small amounts of paint.
To avoid breaking up the colour fleck particles, a relatively large spray nozzle and needle is required, around 2.8mm in size. To power such a large set up, a 3 or 4 stage HVLP turbine is needed.
Multi-colour paints are now water based and are more fragile than the older solvent based materials; they have a shelf life and will loose their distinct fleck over time, so ensure that the batch that you use is fresh. You should follow the manufacturers instructions carefully. In general you should stir them with a hand stirrer but they need a gentle stir, this can be done in the following way: Ensure that the paint can lid is firmly in place and then roll the can gently a few times along the floor.
Most multi-colour paints have three parts: the base coat which is a uniform coating, the multicolour coat and the finish coat which is a special varnish that protects the multi-colour and makes the whole system abrasion resistant.
If you are spraying a large amount of multi-colour, then it is a good idea to use a 10 litre pressure pot because the can, can usually be stood inside it and the material will not be shaken up by being in a paint cup attached to the spraygun.