Line marking with paint
Graco lineLazers apply special marking paint in car parks, warehouses, airfields, ports and other places where regular remarking is required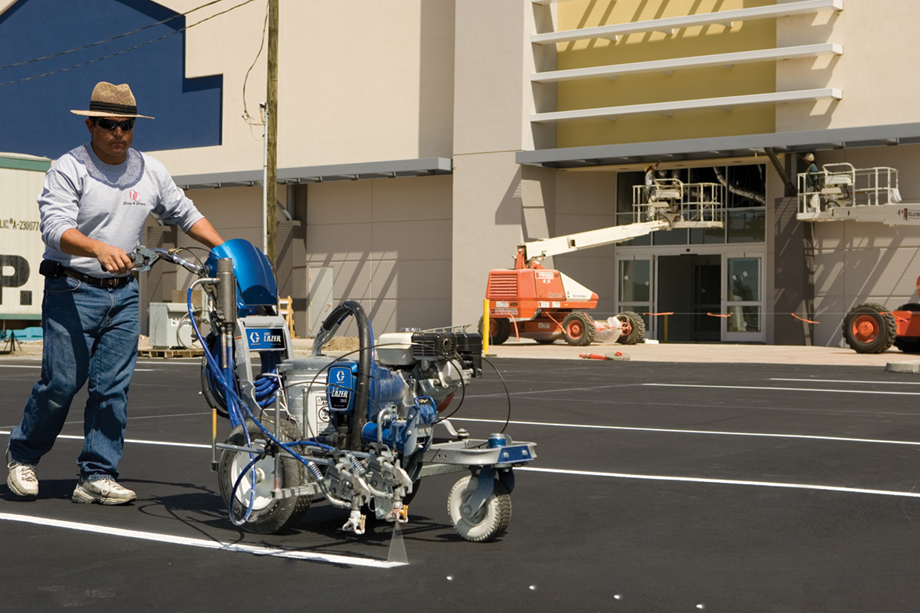 Most paint line marking equipment is powered by a petrol engined airless sprayer so that it does not require electric power and avoids having to have cables lying on the ground. The marking paint is carried on the cart with the sprayer which has 3 wheels, 2 large ones at the rear and a movable one at the front that can be locked into the straight ahead position, or released to turn corners.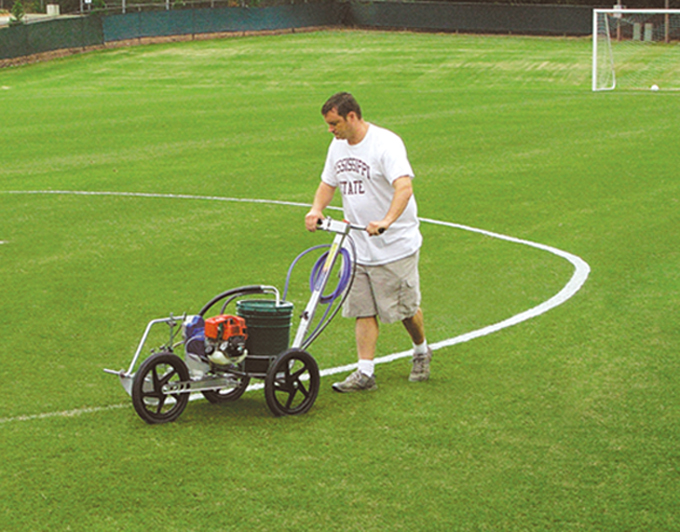 The range of paint marking machines range from the small Graco Fieldlazer for marking sports pitches, which can make a single line, to large equipment that can be mounted on the back of a pick-up or towed behind it, for line marking long distances on open roads or airports with mutliple spray guns. The more spray guns that are required, to either make more than one line or a very wide line, the more paint the sprayer has to deliver. Also the faster the line marker has to move, the faster the paint has to be delivered. For the pushed along line markers, the engine power ranges from 1.6 HP to 9.0 HP delivering from 1.9 to 9.5 litres/minute. For the vehicle mounted line markers the flow can be up to 28 litres/minute.
The range of Graco LineLazers (LLz) starts out with the smallest having a transmission with an electric clutch to control the pressure. The larger LLzs have a hydraulic transmission that is more efficient and derives more paint power from the same petrol engine as well as eliminating the clutch. Most of the range can be fitted with 1 or 2 spray guns to stripe 1 or 2 lines, or 1 wide line with the spray fans just overlapping.
All paint line marking machines are designed to work with specially cut spray tips that provide a much sharper line, and the spray head is normally set much closer to the surface, around 6 inches from it instead of the usual 12 - 15" for spraying other surfaces. The LLzs can be used to spray with a normal spray tip as they are supplied with one 50' paint hose that is coiled up behind the handle.
All the LineLazer IV can be pushed along by a Graco LineDriver which is very convenient for marking car parks as it has a hydraulic transmission and the forward or back movement is controlled by a simple forward or back pedal. The constant speed of the LineDriver helps make a more uniform line thickness, leading to paint savings.