Spraying Smooth Plaster
Skimming a dry-wall with plaster is up to 6 times faster when spraying it, than when using a float
Spraying plaster is widely done on the Continent and is standard practice in most European countries, such as Germany, Benelux, France and Scandinavia. The plaster needs to be the smooth type, not textured with large particles such as sand. Textured materials can be sprayed but require compressed air to do this. Plasterers that spray plaster reckon that they can skim dry lining (plaster board) at least 5 times faster than with a traditional float. Although gypsum based plaster can also be sprayed, using pre-mixed plaster in a bag or tub increases the speed even more by eliminating the need to bring water to site and mix it. Also pre-mixed plaster does not go off if you keep it moist, so you can leave it in the plaster sprayer overnight and you can recycle it as you scrape the surplus off the wide plaster spatula that is usually used, so there's very little waste. As pre-mixed plaster is organic based, a bit like a very thick paint, it also resists cracking as the timbers that may support it dry out, and if skimmed on dry lining, it can be painted the next day.
Because most plastering done in this country is on plaster board (dry lining), it takes much less skill to smooth it off than plastering brickwork, so skilled plasterers will often avoid it as there is a shortage of plasterers and they have plenty of work already, so why change? The national shortage of plasterers has lead to many properties, even quite expensive ones, being left with naked dry lining that has been quickly jointed but not received a skim of plaster. This can make painting it a problem, as often the sanding of the filled joints raises the nap of the board surface, which then shows through the paint. Wallpapering directly onto unskimmed drywall can cause problems later if the wallpaper is stripped off. To be able to offer to skim a drywall before painting, is a new profit opportunity for painters; it can also be used to mask Artex.
Many commercial properties, such as hotels and offices, are being built with precast concrete walls and ceilings which need to be skimmed with plaster to cover the fine holes and panel joins, prior to painting. Spraying plaster is the efficient way and compatible with the speed of this type of construction.
There are 2 main types of plaster sprayer: Piston pumps and worm pumps. The classic plaster sprayer has a worm drive pump which is good for handling large volumes and textured materials, but most lack enough pressure to spray the material on its own and have to have compressed air injected into the special plaster gun to blast it into a spray.
The other type of plaster sprayer has a piston pump which develops enough pressure so that it can spray smooth plaster without compressed air, but then it cannot spray textured materials which would not go through the fine spray tip (nozzle). Many plaster piston pumps can be converted to spray textured materials by using a special plaster gun like the type used with the worm pumps, into which compressed air can be injected. These piston plaster sprayers are often very large paint sprayers fitted with large spray tips, although some are specially designed to have a much higher volume output than you need for plastering but not enough to spray paint.
Piston pump plaster sprayers.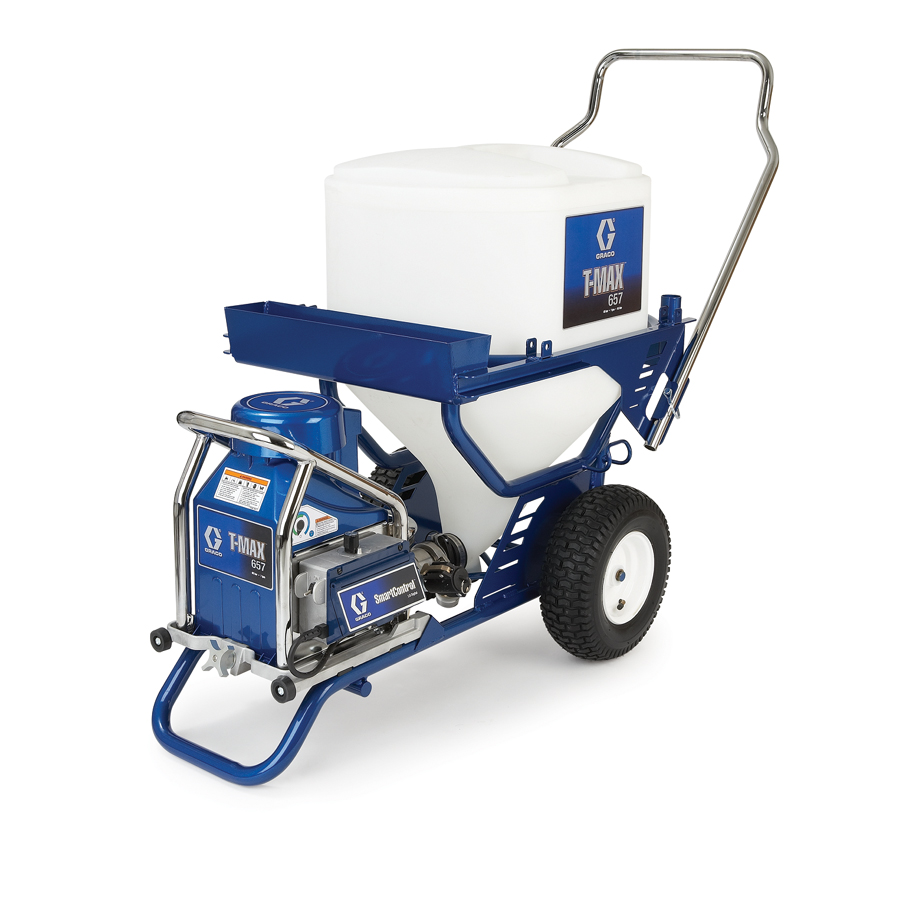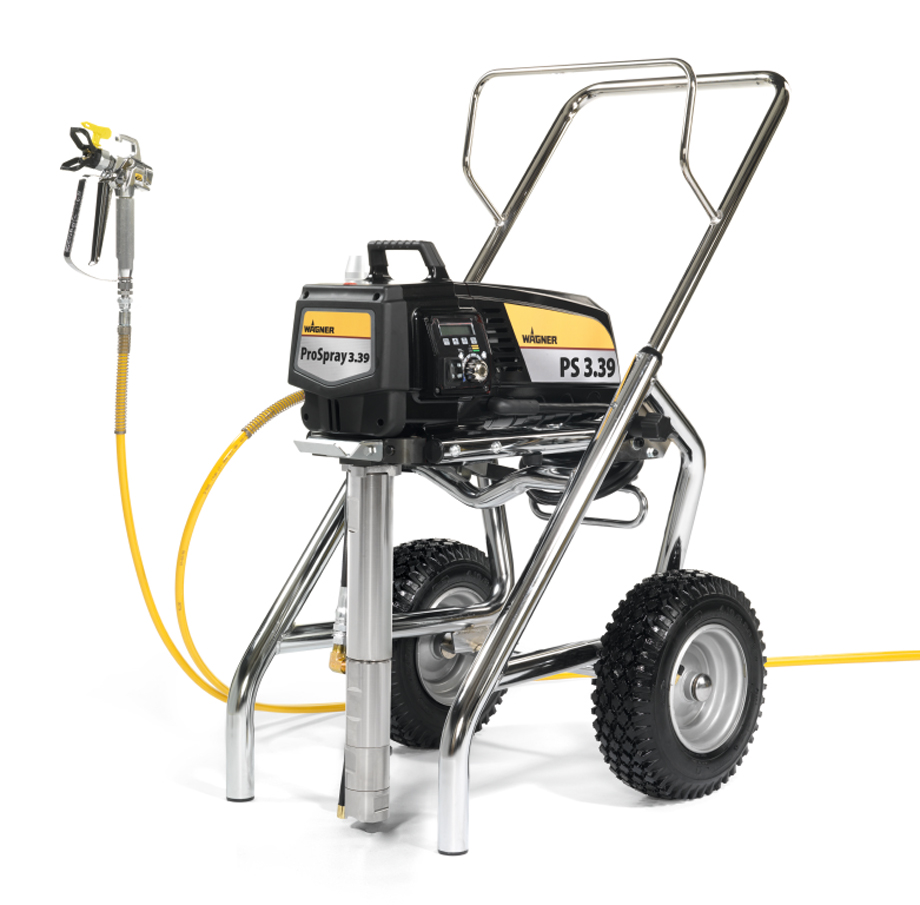 Graco offers 2 possibilities of electric piston pump plaster sprayers in the UK: the T-Max family that are specifically designed to spray plaster with the T-Max 657 developing up to 940 psi and a maximum flow of 7.2 litres/minute. T-Max are not compatible with solvent based materials. The MkV, is a powerful electric airless paint sprayer that can also spray plaster grade plaster at up to 3,300 psi and 4.3 litres/minute.
Wagner has several very powerful electric airless paint sprayers that are well suited to plaster spraying: The PS 3.39 can deliver up to 5.0 litres/minute at maximum 3,300 psi.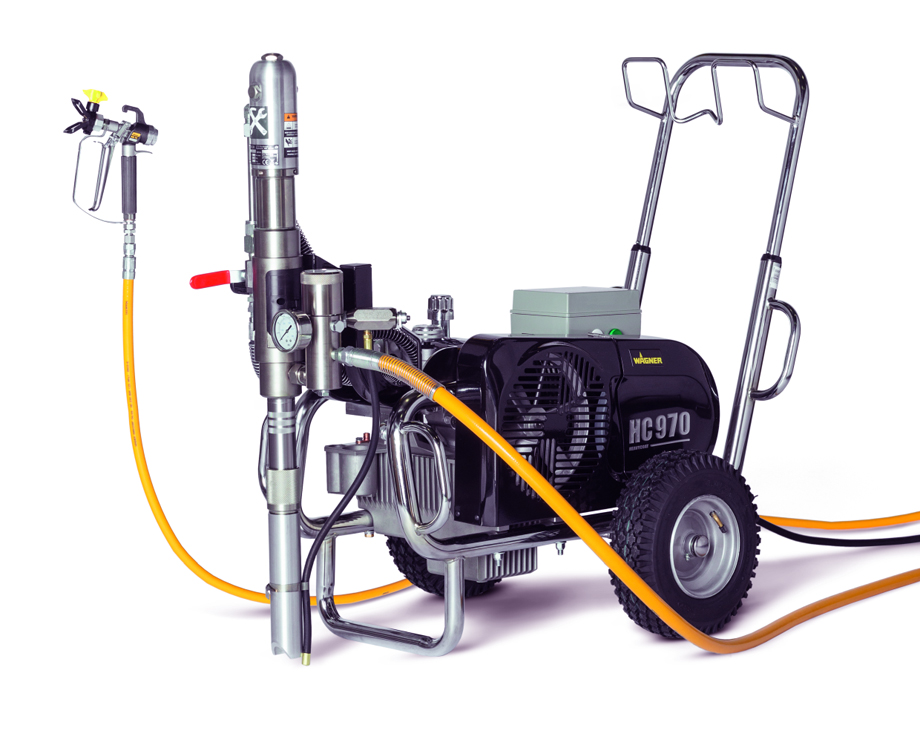 The Heavy Coat family are electro-hydraulic with HC 950E pumping up to 6.6 litres/minute and maximum of 3,625 psi, the HC 970E pumps up to 10.0 litres/minute and maximum of 3,625 psi but only available in 230v. All 3 Wagner sprayers can tilt their pump into 45° to allow direct connection to a hopper, while the Heavy Coat machines can swing their paint pumps to the horizontal for more compact transport.
A Graco 80 litre plaster hopper is available for both the Graco and Wagner sprayers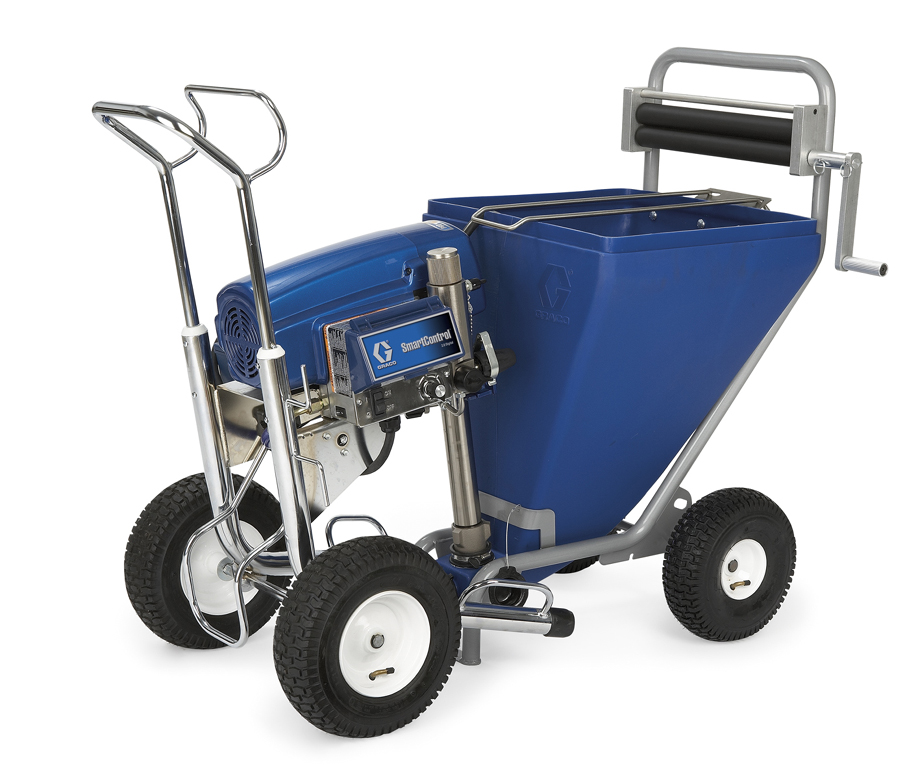 Worm (or screw) pump plaster sprayers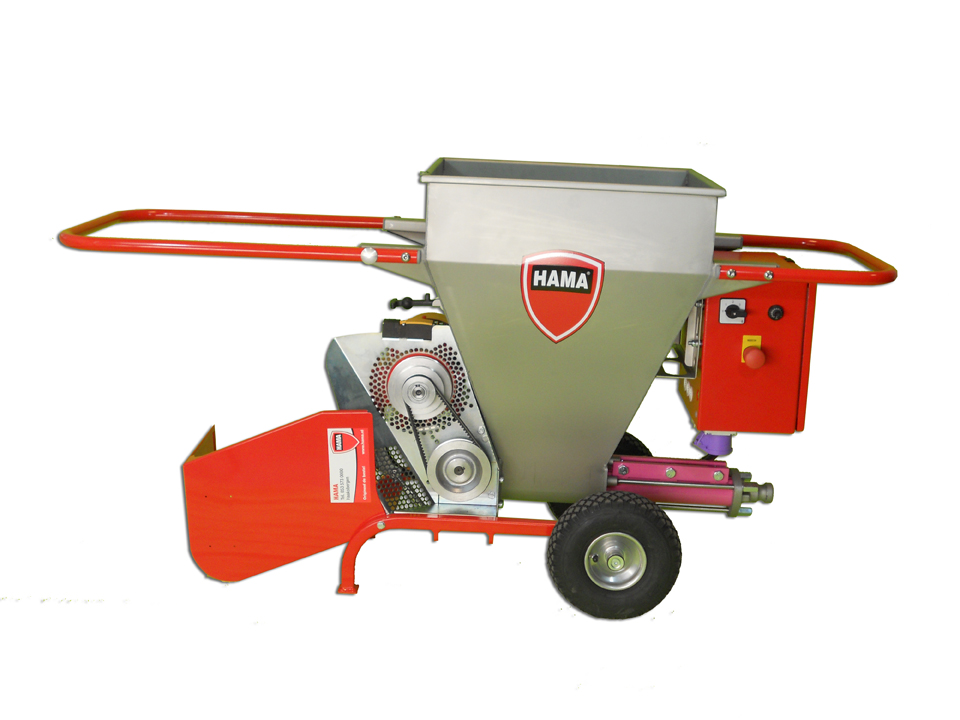 Worm pump plaster and render sprayers have been used for many years on the Continent, but many require 3-phase 380/400v power, so are not suitable for site work in the UK. They are often large and not easy to bring inside a house. The HAMA compact plaster sprayers are available for single phase 110v supply and are compact enough to be able to pass through a domestic door way. As the pump is the worm type, they do not develop enough pressure to spray the plaster, so they require compressed air injected into a special gun to blast it into a spray. The HAMA MC3V is a time tried and tested plaster sprayer that is a well built and reliable design. The powerful matching HAMA H460 compressor is available for situations where site compressed air is not available. Both are available for 110v
HAMA MC3V plaster sprayer
HAMA H460 compressor