Industrial paint and coatings spraying
Industrial paint spraying tends to be either the application of heavy coatings for corrosion protection, or the finishing of goods in a production situation.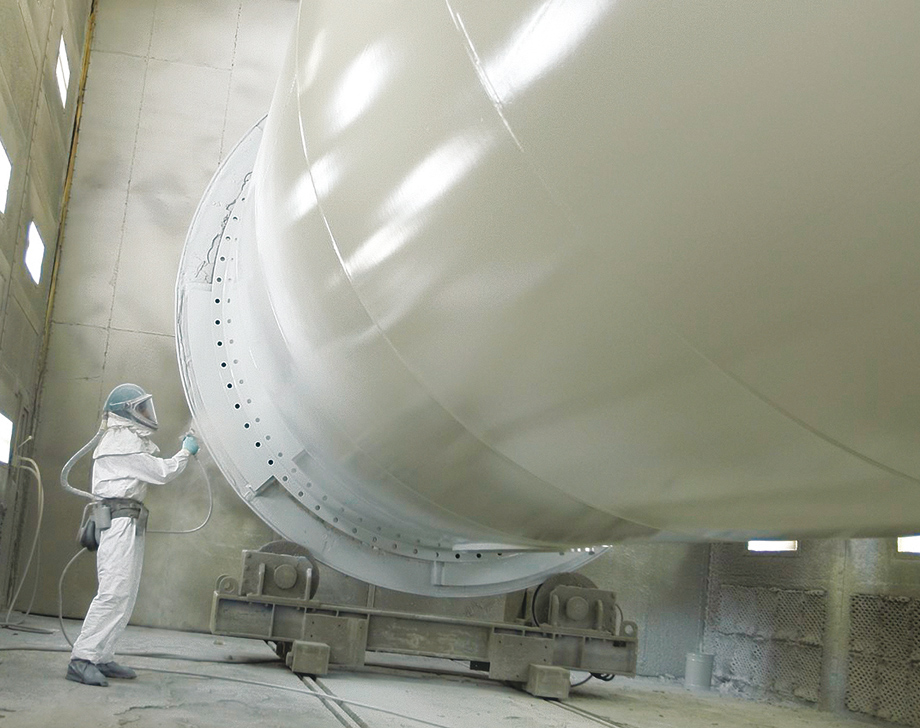 Industrial airless spray
Airless (AL) spraying atomises the coating by the pressure difference between the paint pressure in the spray gun and the ambient air; typically between 150 and 500 bar pressure, depending on the energy required to atomise it. The pressure difference is the energy that breaks up the liquid paint into fine particles and gives them momentum to carry them onto the work. The atomising pressure can be reduced by injecting compressed air into the paint stream; this is air-assisted airless (AA) and requires a special spray gun (please see the section on air-assisted airless). AA spray equipment produces a finer atomisation than airless and is often used to achieve a better finish, especially in the wood working industry.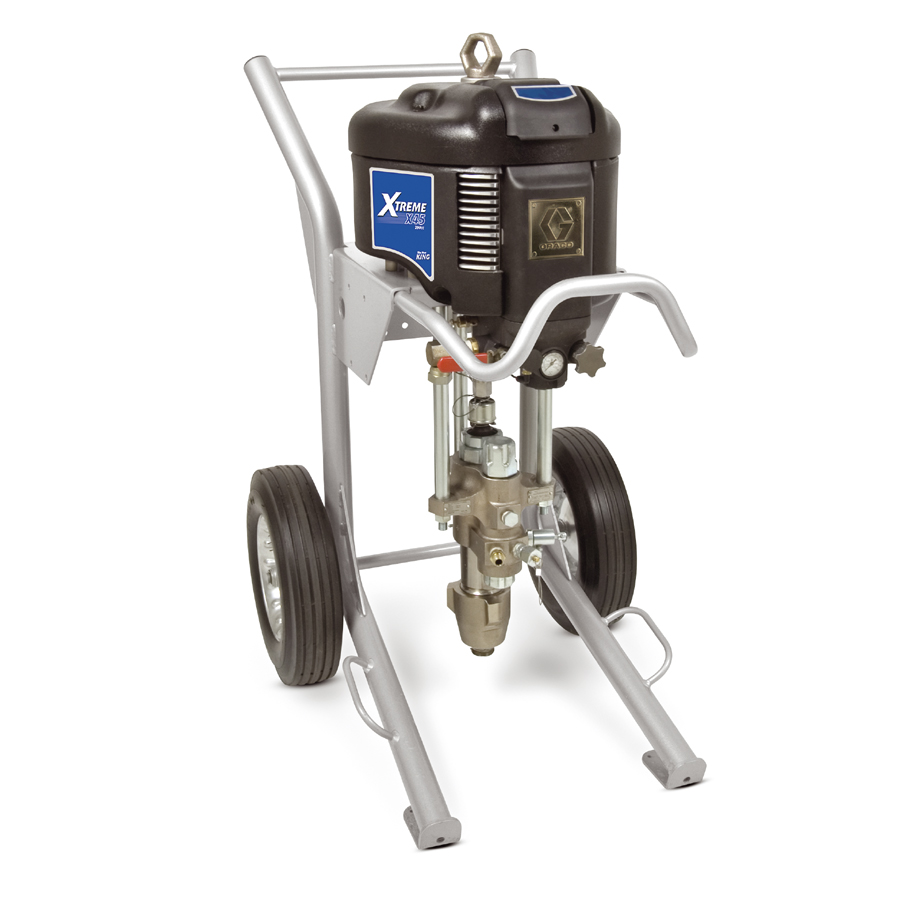 Graco NXT pneumatic sprayers
To achieve pressures above 250 bar, it is more practical from an engineering point of view, for the motor driving the paint pump (the lower) to be pneumatic or hydraulic which can exert a much higher downwards force on the lower than is practical with a crankshaft system. Also a linear motor is more efficient in converting the energy of the motor into spray power. Air driven airless pumps are more common in industrial applications which often take place in an environment where there is a plentiful supply of compressed air, such as a factory or shipyard.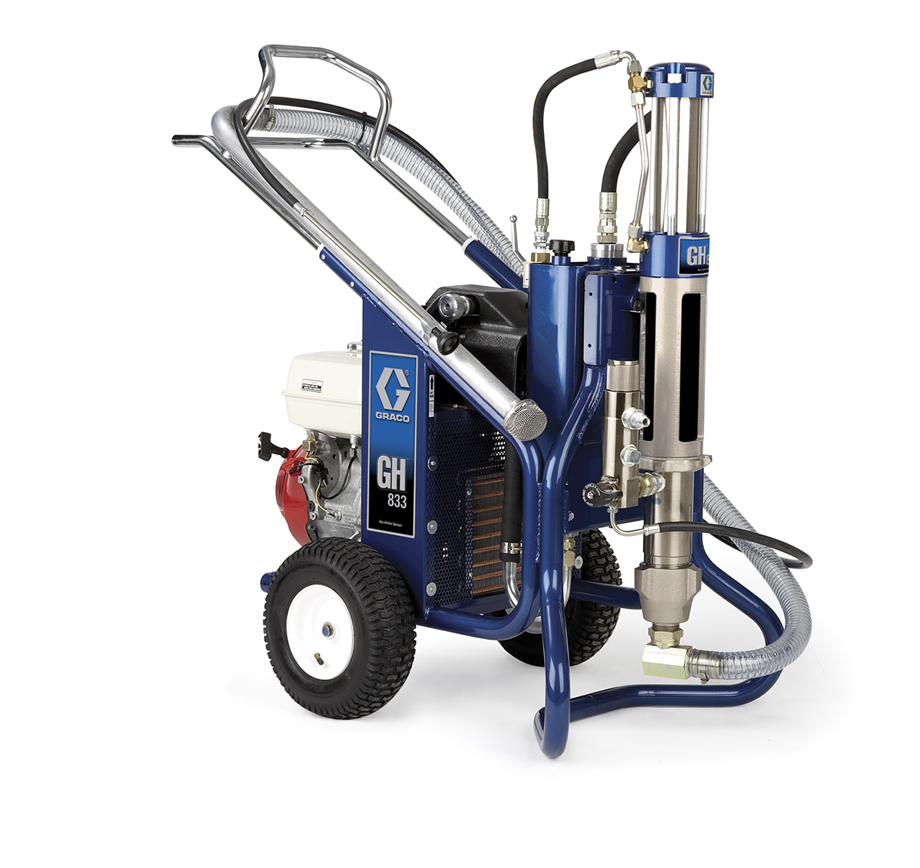 These pneumatic airless pumps have also been useful for operation where the coating is flammable as air motors do not have the spark hazard of an electric or petrol engine motor. For some situations where compressed air is not available or convenient to provide, the airless sprayer may be driven by a powerful petrol engine, the smaller sprayers usually have a crankshaft driven pump (lower) while the larger petrol engined sprayers will have a hydraulic transmission which is more efficient and does not require a clutch to control the pressure.
The viscous industrial coatings can also be difficult to draw into the paint pump, particularly by airless equipment of the type used by painters and decorators that are more compact, with short stroke pistons working quite fast to avoid a bulky sprayer that would be difficult to transport. Industrial airless sprayers therefore have much longer piston strokes and displacement which helps them draw in the coating into their pump. Some industrial airless sprayers have a disc mounted on an extension of the piston, called a shovel plate, that helps to draw in the material, while others may be mounted on a ram plate that is forced down into the material barrel, forcing the material into the pump. Pre-heating the material before it is sucked into the pump can greatly help the process and can also reduce the pressure required to atomise it satisfactorily. Different application equipment may use a combination of these devices to assist in delivering a well atomised spray.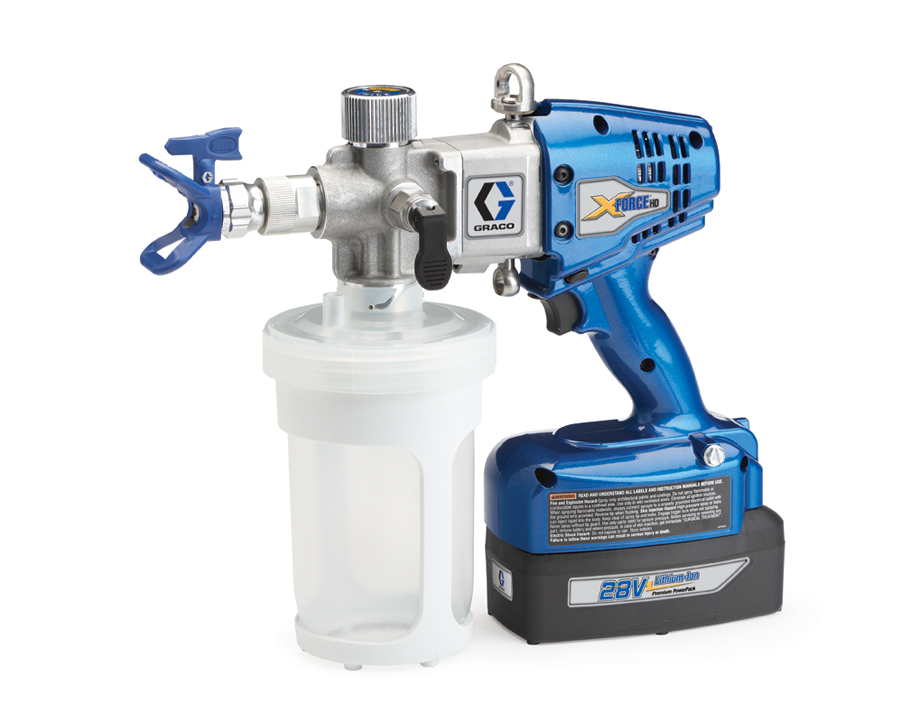 Sometimes there is a need to touch up a small amount of coating that requires a high pressure to spray, for example, recoating flange nuts and bolts after maintenance work when many pneumatic sprayers would not be practical because of the large amount of material to fill their system.
Airless spraying with XForce HD
The Graco XForce HD can spray as little as half a litre and has a maximum pressure of 276 bar (4,000 psi), so it could be used for this; It is powered by a 28v Li-ion battery, and can even be sprayed upside-down.