Learn-about Power Paint rolling

A power paint (pressure) roller is at least twice as fast as a hand roller because you save half the time not having to coat the roller cover. Because the roller cover does not have to carry the paint, it allows you to use a cover with a short nap (pile), so you get a better finish. Pressure rollers are fed from a high pressure pump, usually an airless sprayer.
There are 2 types of pressure roller:
Internally-fed roller with a perforated roller cover
The paint comes out through holes in the roller cover,
there are typically 64 holes through a 9" wide cover.
Spray roller with a plain non-perforated cover
The paint is delivered by an airless spray head directed in front of the roller, not onto it, and quite close to the surface, so you reduce the pressure; spray rollers are faster than inner-fed rollers as the spray head does the work of spreading the paint, while an internally fed roller has to be worked like a hand roller to spread the paint over the surface.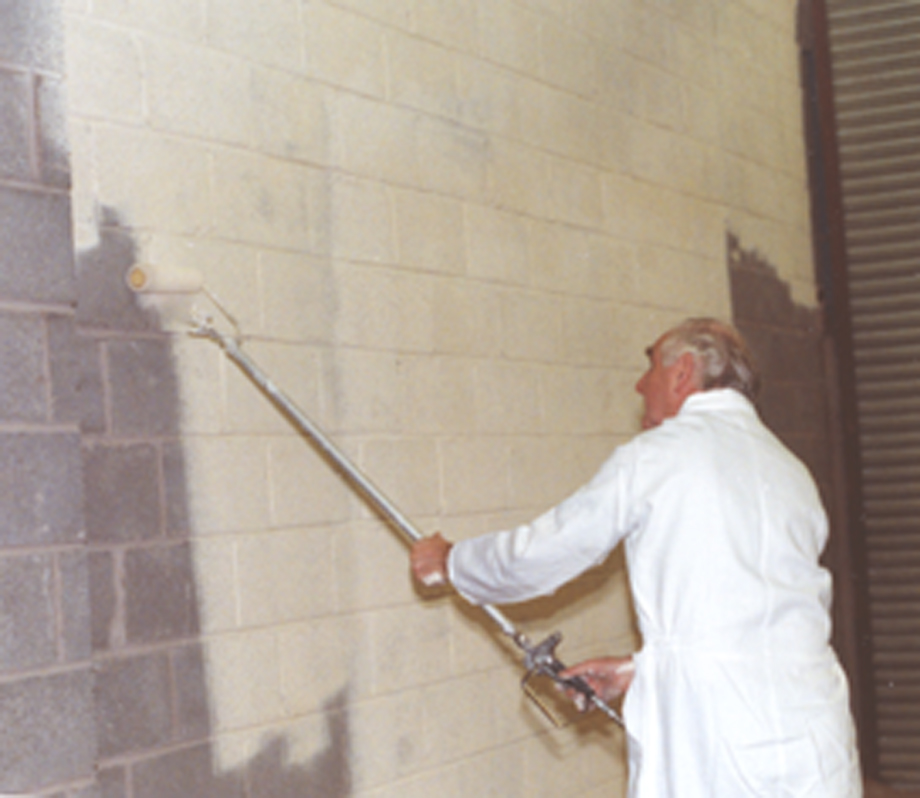 Here is a spray roller in action:
rolling and spraying on a down stroke:

...and spray and rolling on the upstroke
A spray roller is very useful for applying block filler to a new block wall, as it has to have the roller action to penetrate the hills, valleys and holes in the surface. Some people spray it first and then back roll it separately, a spray roller does it in one go. You need at least a 721 size spray tip for block filler, even better would be a 729 if your sprayer can support it.
When you are using a spray roller, as the spray is directed in front of the roller, if you lift the roller from the surface, the spray will pass underneath it. This is useful for spraying alone, inside corners where you cannot get the roller completely in, or places where a roller would leave a messy finish such as outside corner ends or pipes.

And here are 2 inner-fed rollers in action
If you are using an airless sprayer that may have a maximum pressure of over 3,000 psi, be sure that the roller pole has a maximum pressure rating of at least your maximum sprayer pressure. There are quite a few internally fed roller systems around, especially DIY ones, and those with a telescopic pole, that are not airless rated.