Graco UltraMax II 695 ProContractor II 110v airless sprayer
Graco UltraMax II 695 ProContractor II 110v airless sprayer
List Price £4,250
Our Price
£2,250
each + VAT
A saving of
£2,000 = 47%
Call Us Now
01543 251 560
Office Hours are Monday to Friday 8:30 am - 5:00 pm.

Fill in the form and we'll be in touch very soon.
Free Delivery
On orders over £100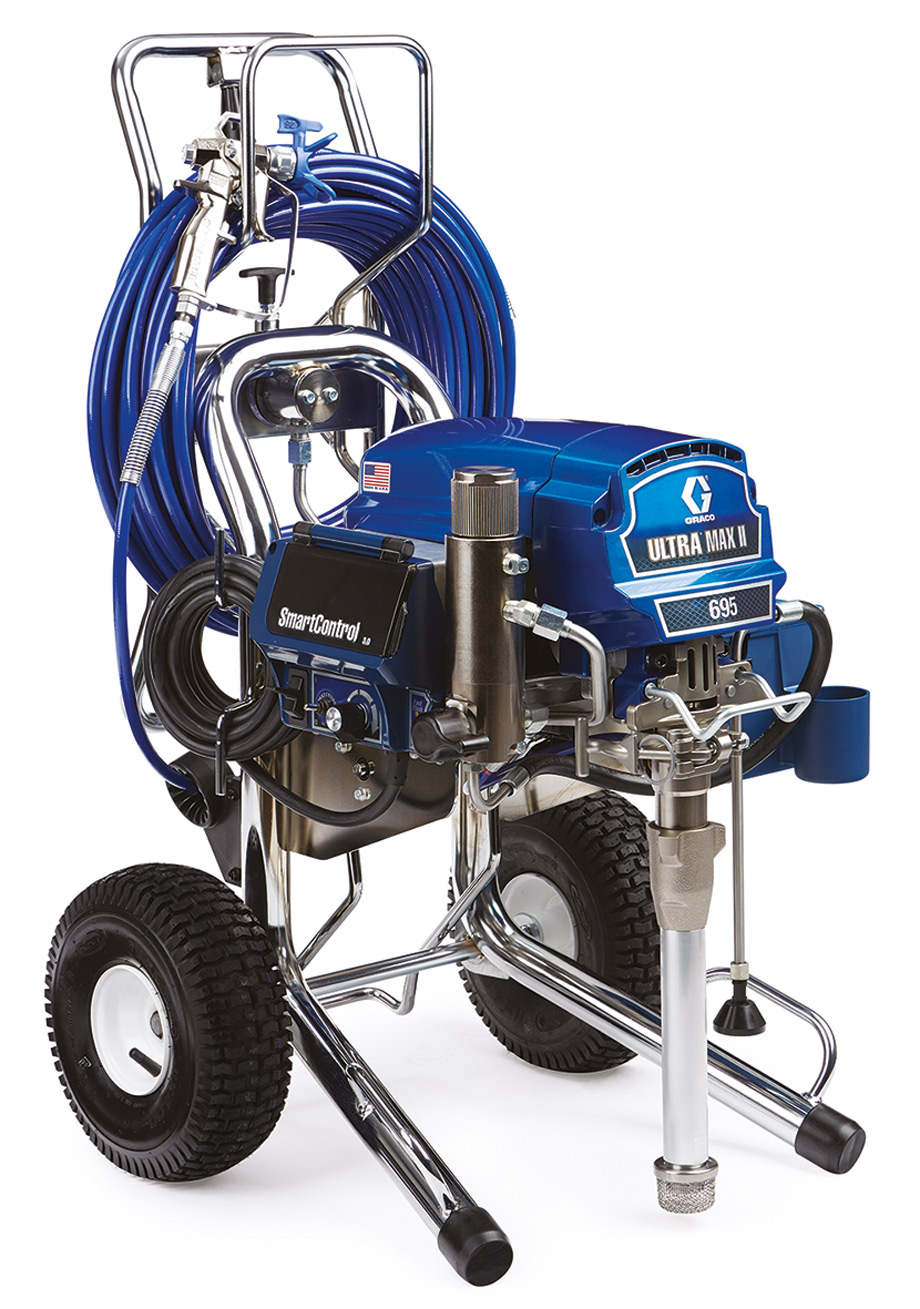 The Graco UltraMax II 695 ProContractor is a professional quality, entry level, electric airless paint sprayer, for commercial and domestic work. It is powered by a digital controlled 1.3 kW electric motor that ensure a smooth spray throughout the range of coatings, from the lightest stains and varnish through gloss, primers, acrylics, vinyl emulsions, heavy masonry and most intumescents.
It will support up to a single 0.031" spray tip or 2 sprayguns, each with up to a 0.019" tip. Max pressure is 3,300 psi (230 bar) and max flow is 3 litres/minute. Ready to spray, it comes with an integral hose reel, complete with 50' (15m) of 1/4" ID paint hose, 2' whip hose, hand spray gun and 517, 621 and 625 reversible spray tips, plus a tool kit. It will not spray textured coatings.
Mounted on a sturdy cart with 2 semi-pneumatic wheels, and weighing 43 kgs it is easy for one man to handle it. It is user friendly with quick access to the pump valves without the need of special tools; The new Proconnect system allows the lower (paint pump) to be quickly removed for servicing without special tools.
Delivery is included in the price and will be by next working day
Maximum size spray tip supported: 0.031"
Maximum pressure at the pump: 230 bar (3,300 psi)
Maximum free flow: 3 litres/minute
Motor power: 1.3 kW (1.75 HP)