Graco TurboForce 9.0 HVLP sprayer 110v
Graco TurboForce 9.0 HVLP sprayer 110v
List Price £1,606
Our Price
£1,195
each + VAT
A saving of
£411 = 26%
Call Us Now
01543 251 560
Office Hours are Monday to Friday 8:30 am - 5:00 pm.

Fill in the form and we'll be in touch very soon.
Free Delivery
On orders over £100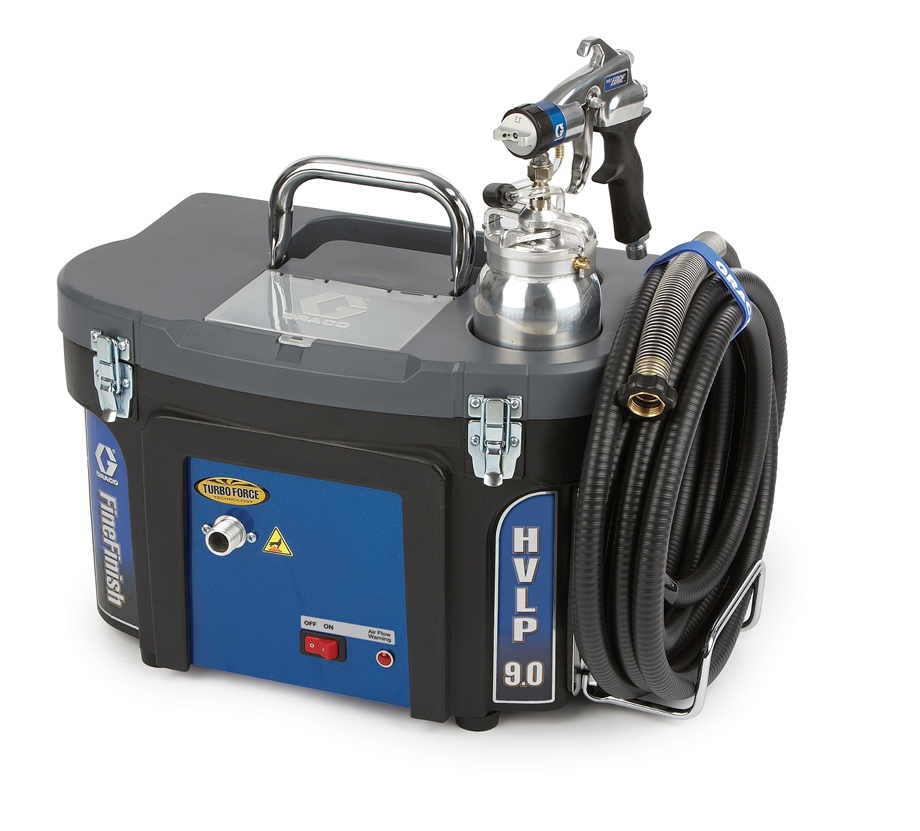 The TurboForce 9.0 HVLP is the ideal portable HVLP sprayer for quality painting on-site. It has a 4-stage air turbine that is manufactured in the USA by Graco, delivering 3,915 litres of air/minute at 8.7 psi. It is built into a convenient carry case that holds the Edge HVLP spray gun, 30' (9m) Super-Flex air hose and an extra #4 tip/needle set in a tray in the top of the case. The Edge spray gun is very easy to use; it comes with a 1 litre suction cup which can be converted to a 500 ml gravity cup; it is fitted with a quick-release tip and needle #3 size.
A useful accessory is the ProComp remote pressure cup kit, which is a 2 litre pressure cup, with 2 air and material hoses each 1.5 m (5 ft) long, and a compressor that can be installed on the TurboForce case. This kit will allow you to work in more confined spaces as well as spray upside down.
Also available for 230v
Delivery cost is included in the price and will be by next working day carrier
Number of turbine stages: 4
Maximum pressure at the turbine: 0.6 bar (9 psi)
Maximum free flow: 3,915 litres/minute
Motor: 110v single phase